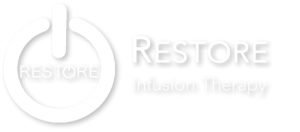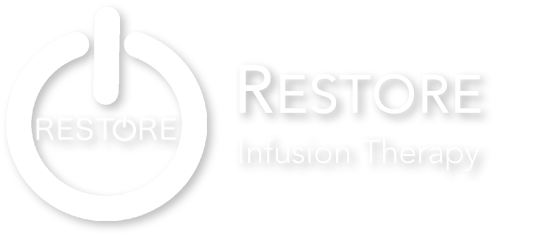 To us, it's all about finding your own path....
American physicist Joseph Henry once noted:
"The seeds of great discoveries are constantly floating around us, but they only take root in minds well prepared to receive them."
RESTORE Infusion

....The "

Gold Standard

"
in Ketamine-Based Therapy
It takes time...
As a former Assistant Professor in the Department of Anesthesiology of Yale School of Medicine where the ketamine infusion for depression was first developed in 1994, I have had years of experience with ketamine and developed RESTORE infusion to improve upon the basic ketamine infusion. I have spent the last 20 years studying and using ketamine in the successful treatment of many of the most difficult, complex and serious "treatment-resistant" conditions. After devoting two decades to the clinical use, research and development of this innovative therapy, employing precision medicine and targeted therapy, we have developed the most advanced ketamine-based therapy available in the RESTORE Infusions.

About Us
We are committed to what we do. We will use all of our knowledge, experience, training and expertise to provide you with the best possible treatment available for relief. Helping people who suffer from migraines, fibromyalgia and depression is our mission. It can be very challenging and requires time, effort and expertise to achieve the best possible result. There are many factors to consider when approaching complex medical issues such as these and we look at each person as an individual.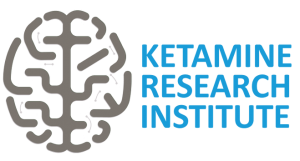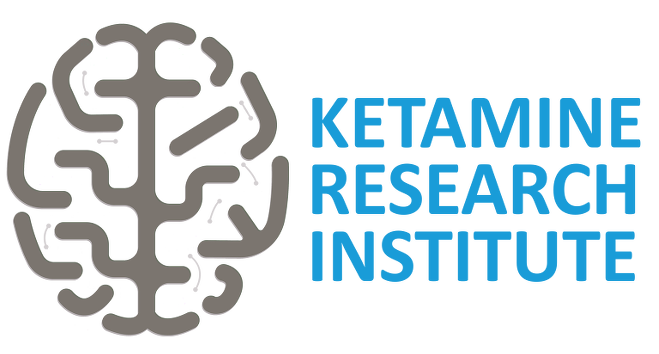 The Ketamine Research Institute was founded to continually improve and perfect ketamine treatment for an expanding range of chronic illnesses. After devoting almost 2 decades to the clinical use, research and development of this innovative therapy, employing precision medicine and targeted therapy, we have developed the most advanced ketamine based therapy available in the RESTORE Infusions® We have improved on the original standard ketamine infusion, making the RESTORE Ultra-Rapid Infusions® the most effective, efficient and longest lasting treatments available.
In addition to metabolic and genetic optimization of each patient we see, the RESTORE infusion process is a unique combination of ketamine and magnesium additives to make it more effective, that it is then administered by our physicians using a proprietary 3-stage variable rate infusion protocol to provide the optimal blood levels for a longer period of time. That is why RESTORE is faster acting, more effective and longer lasting than a regular ketamine infusion. And the beneficial results can begin in just minutes to hours after the first infusion.
We are a very specialized center devoted exclusively to ketamine treatment, clinical research, education and training physicians worldwide in the use of ketamine. We have developed the first and most comprehensive educational training program for physicians in the use of Ketamine Infusion Therapy for Mood Disorders. More than that, we have established an international multidisciplinary collaboration initiative with centers in Australia and Europe to share knowledge and expertise with physicians on the cutting-edge of ketamine therapy. Also, to ensure that all ketamine centers provide treatment in the most effective way and in a safe manner, the Ketamine Research Institute, in collaboration with our partners, has and developed the first International Standards for Ketamine Infusion Centers. Our goal is to ensure that you have the best possible opportunity to improve with ketamine infusion therapy.
Our Training Program...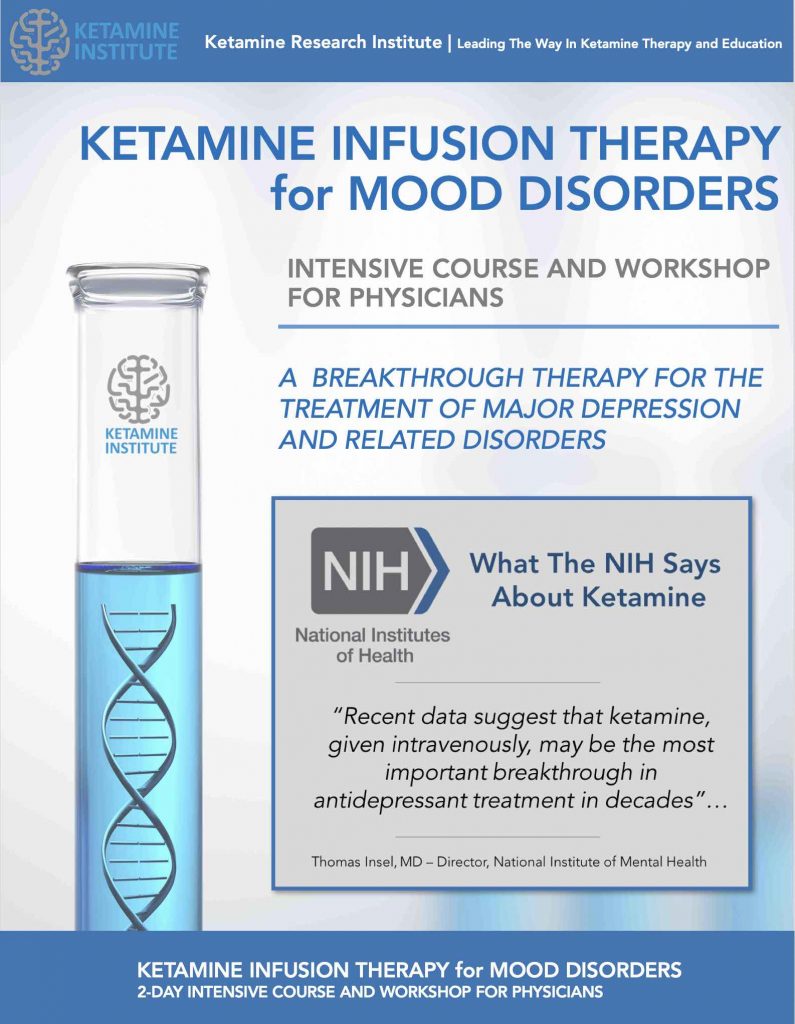 Setting the Standards....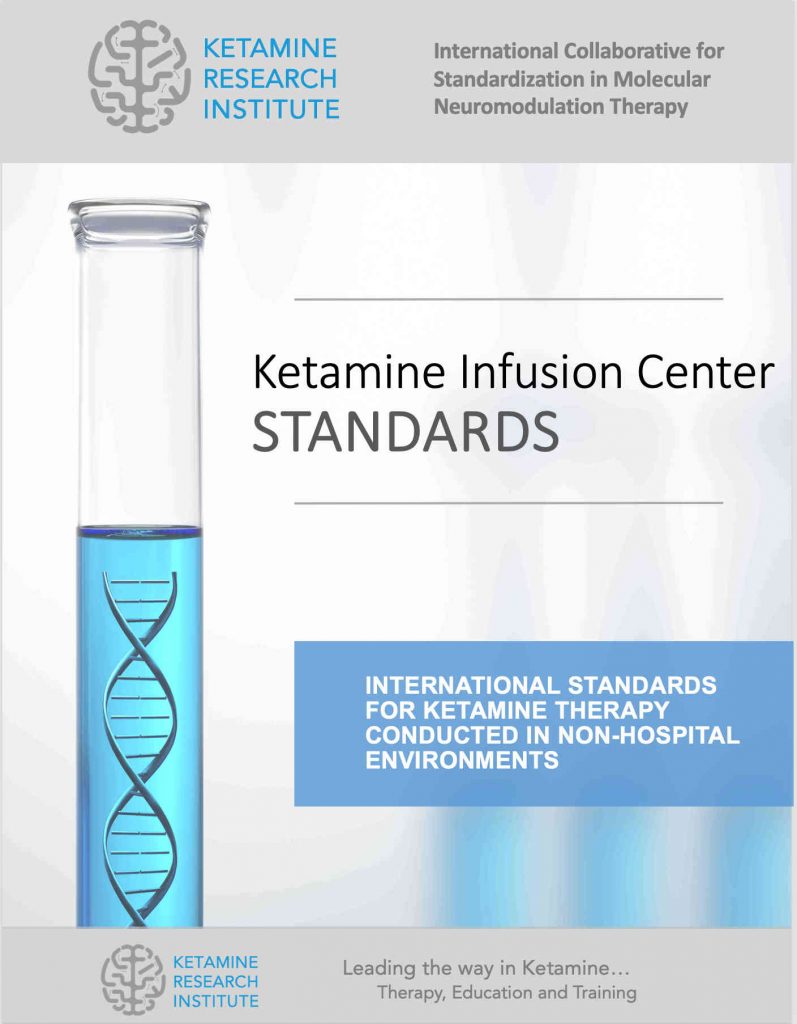 ---
A Little History About Ketamine...
The original ketamine infusion for the treatment of depression was first discovered in 2000 the Yale University School of Medicine by Robert Berman, MD and others. It was actually the Department of Anesthesiology, that assisted in formulating and administering the very first infusion protocol of "0.5 mg/kg given over 40 minutes" in 1994. This original protocol has since become the "standard" ketamine infusion and is currently being used by many others around the world as a rapid treatment for depression and other conditions.
I was also very involved in the early days of ketamine treatment, using it to help patients find relief from chronic pain. Even before that, as far back as the mid 1990's, I had been utilizing this amazing medication for the treatment of pain and later used it extensively at the Mount Sinai Medical Center in New York City prior to our work at Yale. Those of us with previous ketamine infusion experience knew that it was remarkably effective, not only for depression and pain, but it could be effective in treating many related disorders. The problem was that no one knew the most effective dose or formulation of ketamine to use for any individual patient and secondly, that the very rapid beneficial effects only lasted a very short time. Usually only a few days to a few weeks following a single infusion. Well that was certainly a good start, but I knew it could be better and that realization and understanding led to the development of RESTORE.
---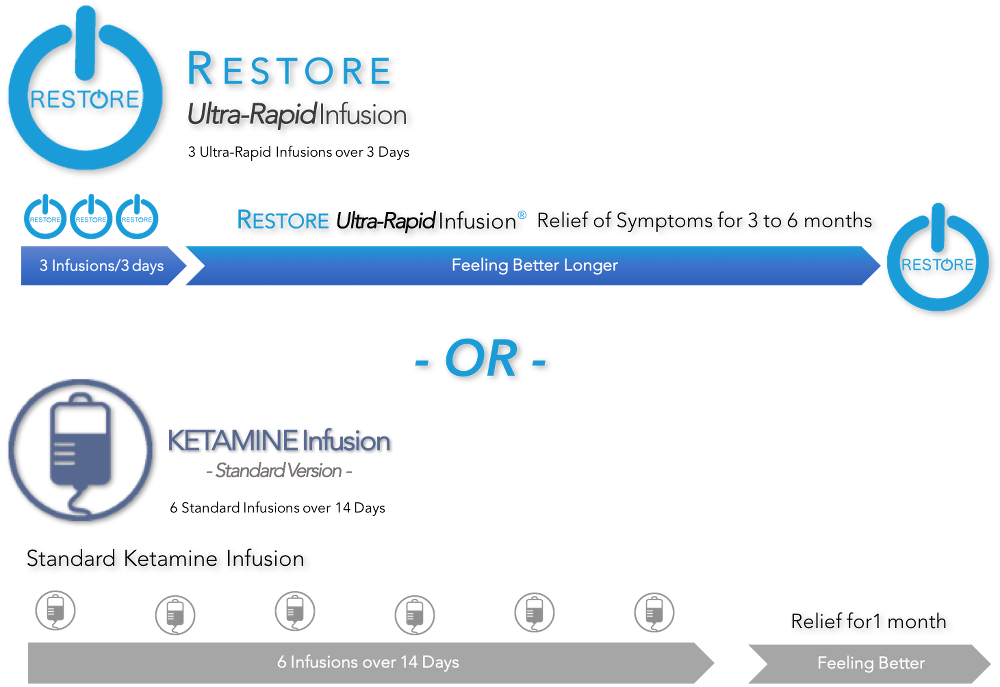 ---
The Ketamine Research Institute was founded to expand and perfect ketamine infusion therapy. I have spent years improving on the original "standard" ketamine infusion protocol, treating hundreds of patients with some of the most severe and complex pain, depression and anxiety disorders imaginable. Now we have been able to solve many of the issues that faced us before with the RESTORE Ultra-Rapid Infusions - Essential and Advanced
the "

Gold-Standard

" in ketamine therapy
---
We Put The Pieces Together
Today, through our use of Precision Medicine and exploration of allied fields in medicine, neuroscience, pharmacogenomics and cognitive science, we have discovered and pioneered synergistic ways to enhance its effectiveness and extend the duration of the RESTORE Ultra-Rapid Infusion beyond anything currently reported in the medical literature.
Our research and development efforts have unlocked the keys to the most effective, rapid and long lasting treatment of pain and depression available today. This unique and proprietary ketamine based infusion protocol known as RESTORE represents the next generation of clinically proven rapid, effective, long-lasting and safe ketamine based infusion treatment.
Through our expanding research efforts to explore its broader application, RESTORE is also be the first medication/protocol of its kind to relieve symptoms of Fibromyalgia, Neuropathy, PTSD, migraine headache, as well as, many other serious conditions such as pelvic pain-vulvodynia-pudendal neuralgia.
---
We Work As A Team
This is a team effort and requires expertise from many related fields. To ensure our patients comprehensive care, the Ketamine Research Institute and our trained and certified practitioners collaborate on an ongoing basis sharing knowledge and expertise in this rapidly expanding field. We network to share the latest developments in the field, answer questions and build a shared database to conduct clinical research into ketamine-based therapy.
Chronic pain and mood disorders represent an immense clinical problem. With tens of millions of people in the United States alone suffering from the burden of these debilitating illnesses, there is a moral obligation to reduce this burden by improving the understanding and treatment mechanisms, developing new therapies, optimizing and testing existing therapies, and improving access to evidence-based care.
We bring together a multidisciplinary international collaboration in the field of ketamine-based therapy, bringing together scientists, clinicians, healthcare providers, and policy makers to stimulate and support the study of ketamine and to translate that knowledge into improved relief worldwide.
---
There is only one center in the United States...
RESTORE
- the "Gold Standard"
We are proud to be the only center in the United States dedicated solely to the advancement of RESTORE Infusion Therapy, provide education to other physicians in its use and to bring the latest breakthrough discoveries about ketamine out of the research lab and into our infusion centers to help the people who need it most today.
Learn more about the RESTORE Infusion Center here >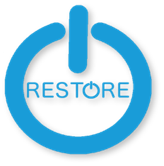 The RESTORE Infusion

Revolutionizing Ketamine Therapy