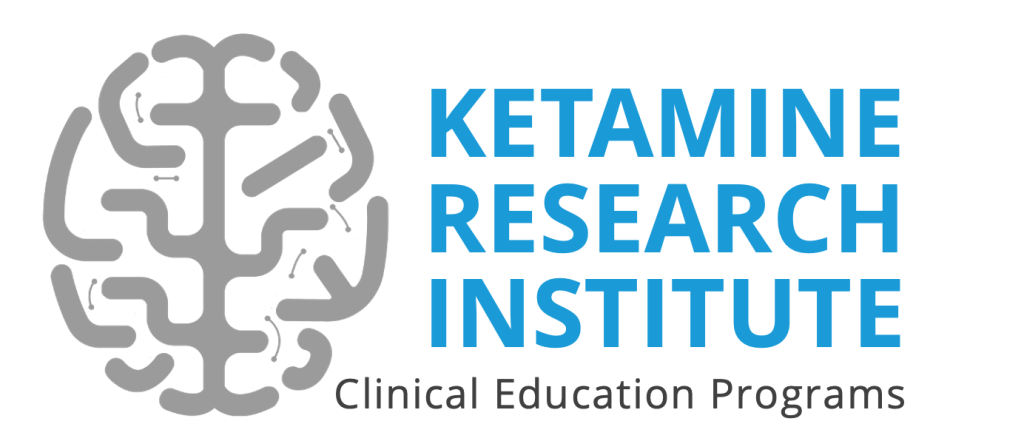 Ketamine Research Institute Training Program
Welcome to day 1 of training!
The Current State of Ketamine Therapy

Day 1. Ketamine-Based Therapy:

The Current State of Ketamine Therapy
Didactic Modules:
Overview –

Why Consider Ketamine?
Mood Disorders An Overview – Depression, Anxiety, Bipolar, PTSD
Multi-factorial Etiologies Contribute to Causation and Treatment Failures
Monoamines Are Not As Effective As We Had Hoped
Current Treatment Options – Therapy, Medications, rTMS, ECT, Ketamine, Psychedelics
Reasons to Add Ketamine Therapy to Your Therapeutic Toolbox
My Experience and Qualification with Ketamine
The Issues Surrounding Ketamine Therapy
Ketamine Therapy is Misunderstood by Many
The Hype, The Reality, The Better Way
What's Important to know about Ketamine Therapy
Where do we go from here
Structure of the Course – This Is Not a TED Talk
Module 1D –

Ketamine - A New Approach for the Treatment of Mood Disorders
The Best Place to Start is at the Beginning
Zarate: A New Approach for the Rapid and Effective Treatment of Mood Disorders
A Deeper Look into The Evolution of Ketamine Therapy
Seminal/Landmark Research Studies – Key Players
Significant Researchers In The Field
1994 - The Origins of the Standard Ketamine Infusion
The 2000 Berman/Krystal Study – A Landmark Study
2006 – Ketamine Becomes Recognized
New Keys to Understanding Depression
The Human Connectome and Mood Disorders
A New Model: Depression - A Neural Disconnection Syndrome
Ketamine and Neuroplasticity
Questions Arise About Ketamine as a Therapeutic Modality
The Non-FDA Drug Trial Approach to Ketamine Development
The Issues: Administration – Durability – Dosage - Frequency
How To Standardize and Facilitate Ketamine Treatment
Large Randomized Placebo-Controlled Drug Trials
Whom Do You Ask? Anesthesiologists, Psychiatrists, or Bench Researchers
Use What We Know – An Existing Model?
What Model To Use?
Administration – Durability – Dosage – Frequency
The "Standard Ketamine Protocol" Emerges
Module 2D –

The Standard Ketamine Infusion
The Standard Ketamine Infusion Protocol
Qualifications, Training, Equipment, and Safety Recommendations
Who Is A Candidate For Ketamine Therapy - Patient Selection
The Infusion – Version 1 and – Version 2
Patient Follow-Up and Maintenance
Best Outcome studies – Research studies
The Protocol Doesn't Tell The Whole Story
Ketamine Infusion Timeline and Experience
Physiological and Psychological Variables
Transpersonal Experiences – Do They Matter?
Ketamine Safety, Abuse, and Adverse Effects
Houston, We Have A Problem…
Clinician Don't Always Follow The Protocol
Compliance with guidelines and recommendations
Do clinicians adhere to the "Standard Ketamine Infusion" Protocol
The Wild West of Ketamine Therapy - It's Dangerous Out There!
How Bad Is It? – A Video Example of a typical infusion
The "Zappy" Syndrome
Worse Yet – Big Business Gets Involved: Franchising & Home Delivery of Ketamine
What Has Been The Result?
Effectiveness-Adverse Effects-Worsening Symptoms-Suicidality
Malpractice Suits, DEA/DOJ Intervention, and Legislation
---
Clinical Modules:
The clinical modules allow clinicians to gain experience administering ketamine infusions under the close supervision of more experienced clinicians. Clinicians perform and practice all the necessary steps essential to a successful infusion. The first day provides the framework required to comply with professional regulatory agencies and evidenced-based best practices.
Module 1C - The Basics: Rules, Regulations, and Requirements
Professional Regulatory Agencies
American Psychiatric Association:
APA Skill Set Review:
Overview of mood disorders and the use of ketamine as a treatment option
Proper dosing and administration of ketamine
Patient monitoring and safety measures during and after treatment
Potential adverse effects and side effects of ketamine treatment
Patient selection and evaluation for ketamine treatment
Alternative treatment options for mood disorders
Current research on the long-term effects of ketamine use
Proper documentation, communication, and collaboration with other healthcare providers
Legal and regulatory considerations in ketamine treatment
Risks of off-label use of ketamine
Use of ketamine in special populations
Ongoing patient follow-up and monitoring
Ethical considerations in ketamine treatment
A multidisciplinary approach to ketamine treatment
Opportunities for continuing education and professional development.
American Society of Anesthesiologists
ASA Skill Set Review:
Anesthesiologists Keyword – Vigilance
Patient selection and evaluation for ketamine treatment from an Anesthesiology Perspective
Use of ketamine in special populations
Proper documentation, communication, and collaboration with other healthcare providers
Patient monitoring and safety measures during and after treatment
The critical difference between continual vs. continuous monitoring
IV insertion techniques and the use of vascular access devices
Monitoring – How to use, apply and understand – NIBP, EKG, SpO2, EtCO2, and Capnography
Street Level Airway Management from A to Z
Potential adverse effects and side effects of ketamine treatment - What to do in an Emergency
State Medical Boards
Drug Enforcement Agency
Who Is A Candidate For Ketamine Therapy
Patient Selection - Being "eligible" is not the same as being "suitable."
Evaluation – Labs, Medical and Mental Health Records, Referrals
Cautions and Contraindications
Avoiding Medico-Legal Issues: It's All In The Documentation
Examples: Metrics – Forms – Notes - Logbook
Screening Metrics, Brief Medical History
Initial Evaluation and Consent
Pre-Procedural Evaluation
Ketamine Infusion Record
Post-Procedural Note
Discharge Instructions
DEA Controlled Substance Logbook
General Operational Concerns
Space Requirements
Personnel Requirements
Equipment Requirements/Vendors
Supply Requirements/Vendors
Pharmaceutical Requirements/Vendors
Module 2C

- Introduction to the Infusion Room
The Clinical Encounter – What Does It Look Like?
The Ketamine infusion Suite:
Physical Space and Setting
Patient preparation and monitoring
Equipment and Supplies
Infusion/syringe pumps
Safety Issues, Transporting, and Patient Discharge
---
Here is what our graduate have to say
Dr. Landauro:
I am an Austrian psychiatrist. One year ago, I started using ketamine for the treatment of my depressive patients without formal training using the standard protocol published in the literature.  I decided to attend the Ketamine Institute's training program to enhance my skills.The Ketamine infusion therapy for mood disorders" training course for physicians went above and beyond my expectations. Dr. Grass' brilliance and profound professional expertise made this course an unforgettable and truly eye-opening experience. I can now understand Ketamine from a pharmacological, anesthesiology, psychiatric, medico-legal and therapeutic perspective. I could put the contents I learned immediately into practice and my patients are already profiting from the knowledge I gained."
…thank you!"
—Dr. Med R Febres Landauro – Saltsburg, Austria
---
To Learn More About Our Programs - please click the links below:
Day 3: Ketamine-Based Therapy: The Precision Medicine Approach
New Courses Beginning in 2023
Ketamine Training for Experienced Providers and Anesthesiologists
and Target-Controlled Administration Techniques
The Origin of Our Ketamine Training Program
---
"Mini-Fellowship" Intensive Ketamine Infusion Training for Clinicians
3-Day Intensive Course
Our course not only covers all of the practical aspects of ketamine therapy but expands into scientific principles allowing optimization of the basic protocol.  All course training is conducted "on-site" in an actual infusion center so that you will have an opportunity to become familiar with the environment in which infusions are performed and obtain valuable clinical experience administering ketamine infusions under expert supervision. This includes utilizing all of the necessary monitoring equipment, intravenous delivery systems, and supplies necessary for the safe administration, storage, and handling of ketamine. 
How to effectively integrate ketamine therapy into your current practice
_________________
---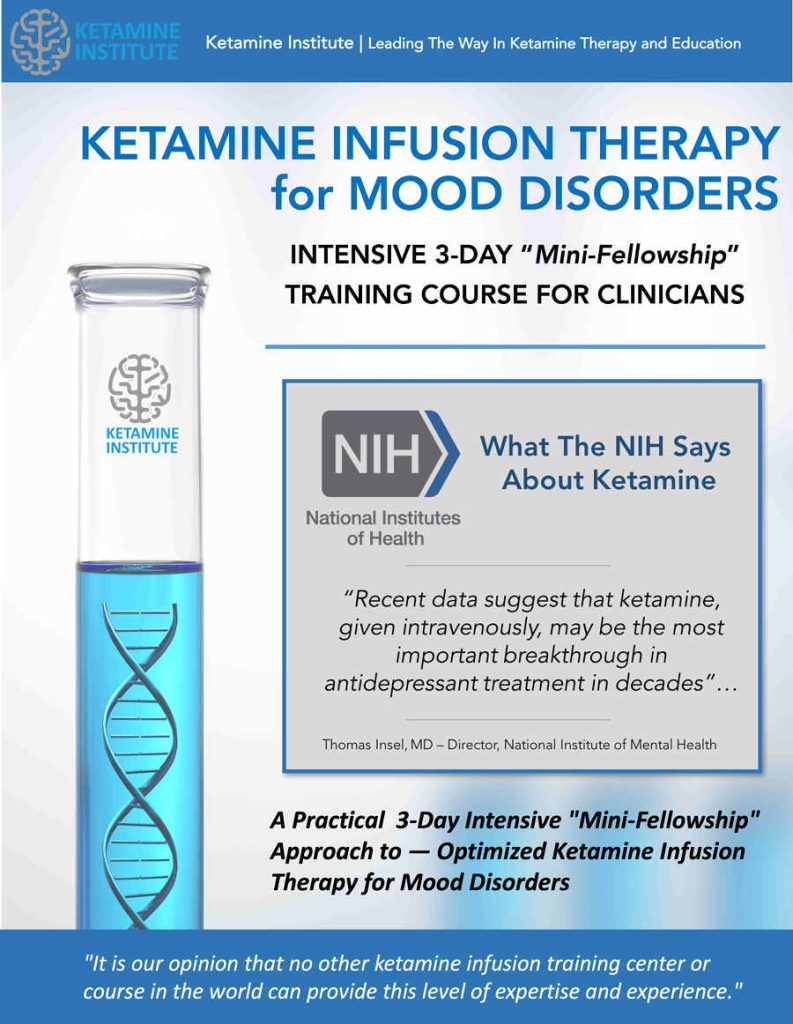 ---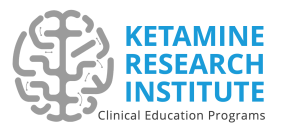 The Ketamine Institute is leading the way in the field of ketamine infusion therapy and physician education with our new ketamine infusion training program. We're on a mission to accelerate the health care revolution. We have pioneered ketamine infusion therapy to bring the latest breakthrough discoveries about ketamine out of the research lab and into our infusion centers.

A New Therapeutic Option for Depression and Pain

Join with us and apply for training today!