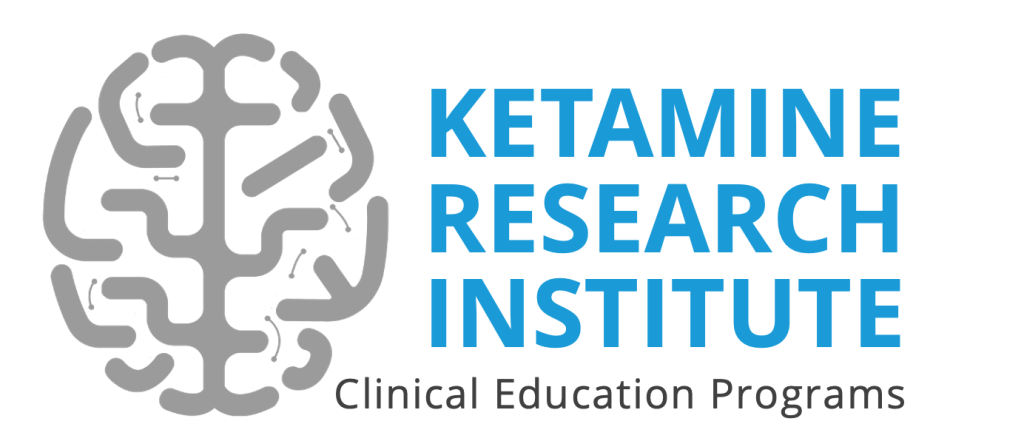 Ketamine Research Institute Training Program
Welcome to day 2 of training!
Efficacy versus Effectiveness

Day 2. Ketamine-Based Therapy:

Efficacy versus Effectiveness
Didactic Modules:
Module 3D -  Less Effective Than You Think
Ketamine Infusion Therapy - Recap
The Standard Ketamine Infusion
Ketamine Therapy In The "Real World"
Ketamine Is Not As Effective As You Think - But It Can Be!
Ketamine in Research Studies
Ketamine in the Real World:
Effectiveness
Adverse Effects
Tolerance
Hormesis
Tachyphylaxis
Worsening Symptoms
Suicidality
The Efficacy-Effectiveness Gap
The Reasons Why Ketamine Studies Are So Conflicting and Confusing
What Do We Need To Know To Make It Better?
We Need To Know Three Things:
More About Ketamine: The Principles
More About Our Patients: The Variables
The Solution: Precision Medicine and Target-Controlled Infusions 
THE PRINCIPLES: Ketamine, the "Master Molecule"
Ketamine Pharmacological Characteristics
Why Researchers Think Ketamine is a "Dirty" Drug
Why Ketamine Is So Effective - It's "Broad Spectrum" Master Molecule
Little Known Mechanisms Of Action
Simple Mg/Kg Administration Is Unreliable and Inaccurate
Let's Begin With The Metabolic Pathways of Ketamine –
Mg/Kg Dosing Doesn't Tell You Anything About What Is Happening
Ketamine Plasma Concentrations And The Dose-Response Curve
What Is The ED50 and ED75 of Ketamine, and Why Is This Important
What Is A Target-Controlled Infusion?
Pharmacokinetic Modeling Of The Ketamine Infusion
THE VARIABLES: "Real-World" Patients
Research Subjects Are Not "Real-World" Patients
"Real World" Patient Examples
Essential Patient Characteristics That Affect Response and Outcome
The 5 Key Factors:
Mass: Body weight affects concentrations, distribution, and elimination
Morbidity: Comorbid medical conditions impact ketamine effectiveness
Medications: Many medications/supplements alter P450 metabolism
Metabolism: BDNF, MTHFR, COMT, and Testosterone are critical
Mindset:  It's More Than Just "Set and Setting" - Expectations and Frames of Reference influence the outcome
Module 4D - Improving Ketamine Therapy
THE SOLUTION: Optimizing Patients and Targeting Your Infusion
Personalized Medicine:
What is Personalized Medicine?
Patient Selection/Evaluation Criteria
Preliminary Diagnostics, Labs, and Genetics
Precision Medicine Modification and Augmentation Strategies
Targeted Infusion Plasma Concentrations for Various Disorders
Anxiety and PTSD
Depression and Bipolar Disorder
Miscellaneous Conditions
Enhancing The Ketamine "Experience"
The Framework of Reference
Monitoring and Guiding Techniques
Audio Enhancements
Visual Enhancements
Kinesthetic Enhancement
---
Clinical Modules:
The second and third day consists of supervised clinical training to develop the skills and techniques used in ketamine therapy. It also reinforces the concepts of Precision Medicine and Target-Controlled infusions discussed in the didactic modules of the course.
The goal is to provide clinicians with first-hand experience conducting actual ketamine infusion therapy from beginning to end. Supervised clinical training provides the knowledge, skills, and confidence you need to administer ketamine infusions to their patients in a safe and highly effective manner.
Module 3C - First Clinical Session
Supervised Clinical Training
These sessions allow clinicians to administer ketamine infusions under the close supervision of more experienced clinicians. Clinicians perform and practice all the necessary steps that are essential to a successful infusion, including:
Pre-procedure Preparation
Preparation of the infusion suite
Setting up your infusion tray
Audio and Visual enhancements
Pre-procedure patient preparation
Determination of adjusted body weight
Patient positioning
Vital signs monitor application and adjustments
Confirmation of pre-treatment vitals
The Ketamine Infusion
IV insertion techniques and vascular access devices
Infusion methodologies: Gravity, Drip Assist, Infusion pumps
Determining target ketamine plasma concentrations
Pharmacokinetic modeling during infusion
Using the electronic ketamine infusion record
Assessment of acute psychological and physiological effects during infusions
Assessment of your patient's level of consciousness
How to perform infusion rate or concentration adjustments
Preventing infusion occlusions, flow reductions, and disconnects
Tips for guiding patients through the infusion
Avoiding and managing adverse effects
Post Procedure Issues
The immediate recovery period: nausea, fatigue, disequilibrium
Debriefing and integration techniques
Post-infusion recovery monitoring
Patient transportation and discharge
---
Experiential Module:

Module 1E - First Experiential Session
The Ketamine "Experience"
In this section, an opportunity is provided for clinicians to personally experience the non-ordinary states of mind that patients under their care will encounter during an infusion. The ketamine infusion experience can be a profound and life-changing event for many of your patients.
When combined with the extensive didactic knowledge provided in the course modules and hands-on supervised clinical training administering ketamine, this unique opportunity and approach offers the greatest opportunity for developing the clinical competence and expertise necessary to determine the appropriateness and precise application of this treatment modality for their patients
Framing the Ketamine Experience
Valuable tips for beginning an infusion session
Understanding Models for the ketamine experience
Visual, Kinesthetic, and Somatic processing
Experiencing dissociation
Time and space expansion
Non-linear thought
The ketamine continuum and depth of immersion
The spacious present
Debriefing and integration techniques
Returning from the experience
Post-infusion Phenomena
Learning from Insights gained to adjust subsequent infusion session
---
Here's What Our Graduates Have To Say
"Thank you again for an informative, enlightening, and practical course! Christy and I thoroughly enjoyed our experience with you, and we are excited to get all of our ducks in a row to get started with the ketamine infusions for mood disorders.
We appreciate your offer to send your forms/documents in a pdf as this will give us a great start in providing the right documentation, consent, etc… which interestingly our malpractice carrier is requesting. (I guess PA is not as progressive as FL.)
The course was fantastic….exactly what I was hoping for….evidence-based, scientifically yet practically oriented…allowing us to not only understand the basics of these treatments but some insights as to improve our successes and minimize the "failures" through careful patient selection and optimization.
I am looking forward to applying what we have learned to improve the lives of those in our community who qualify for this treatment and approach! We again thank you for the opportunity and look forward to staying in touch!"
—Theresa Burick, MD - Integrative Medicine Specialist
---
To Learn More About Our Programs - please click the links below:
New Courses Beginning in 2023
Ketamine Training for Experienced Providers and Anesthesiologists
and Target-Controlled Administration Techniques
---
"Mini-Fellowship" Intensive Ketamine Infusion Training for Clinicians
3-Day Intensive Course
Our course not only covers all of the practical aspects of ketamine therapy but expands into scientific principles allowing optimization of the basic protocol.  All course training is conducted "on-site" in an actual infusion center so that you will have an opportunity to become familiar with the environment in which infusions are performed and obtain valuable clinical experience administering ketamine infusions under expert supervision. This includes utilizing all of the necessary monitoring equipment, intravenous delivery systems, and supplies necessary for the safe administration, storage, and handling of ketamine. 
How to effectively integrate ketamine therapy into your current practice
_________________
---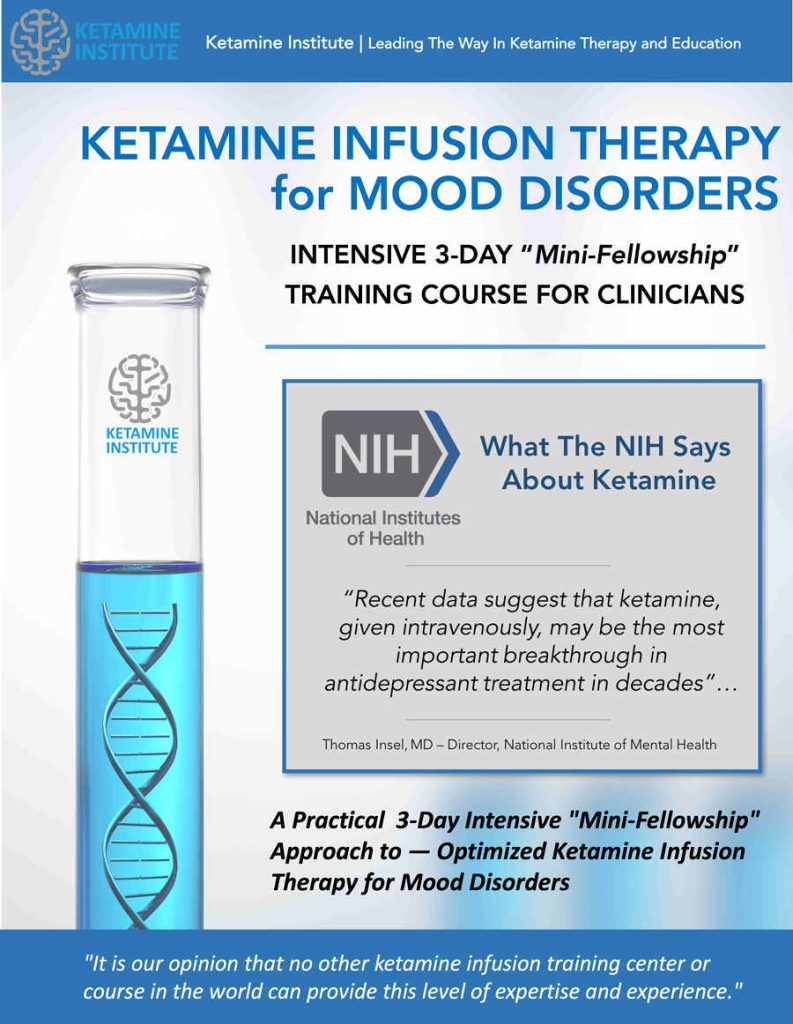 ---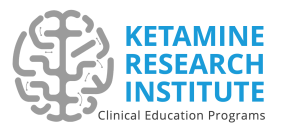 The Ketamine Institute is leading the way in the field of ketamine infusion therapy and physician education with our new ketamine infusion training program. We're on a mission to accelerate the health care revolution. We have pioneered ketamine infusion therapy to bring the latest breakthrough discoveries about ketamine out of the research lab and into our infusion centers.

A New Therapeutic Option for Depression and Pain

Join with us and apply for training today!