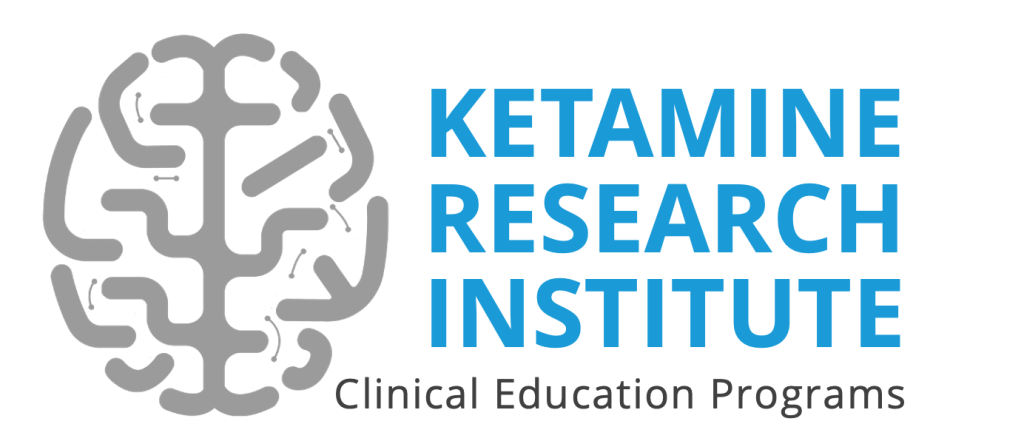 Ketamine Research Institute Training Program
Welcome to the final day of training!
The Precision Medicine Approach

Day 3. Ketamine-Based Therapy:

The Precision Medicine Approach
Didactic Modules:
Module 5D - The Precision Medicine and Target-Controlled Infusion Approach To Ketamine-Based Therapy
Ketamine Infusion Therapy - Recap
The Standard Ketamine Infusion v.s The Improved Approach
Putting It all together: A Rapid Guide To Your first infusion
Optimization Begins At The First Encounter
Quick Reference Guide To Ketamine Therapy
Enhanced Treatment Approach and Algorithm
Test Your Knowledge - Case Presentations
More is better – tolerance, tachyphylaxis, and hormesis
I don't know why It Didn't Work For Me – the effects of concurrent medication
It cures everything… right? – expectations and multiple comorbidities
Course Summary
Mentoring Program
What is the Program
Clinical Advice and Suggestions
Indications/Contraindications
Dosage Requirements
Treatment response
Operational and Business Concerns
Space and Staff Requirements
Suppliers
Marketing
Ketamine Research Institute Referral Network
Contact Information
Module 6D - Ketamine Infusion Center Standards - Supplemental
Ketamine Infusion Center Standards
 I. Medical director requirements
II. Practitioners' qualifications
III. Staffing requirements
IV. Practice guidelines
a. Medical records
b. Patient selection and screening
c. Patient admission
d. Ketamine infusion unit/area
e. Patient care and monitoring
f. Patient discharge
g. Equipment
h. Infusion/syringe pumps
i. Emergency management
j. Medication management
k. Safety
l. Physical space
m. Infection prevention/control
n. Sterile processing management
o. Quality improvement program
p. Manuals
Appendices: Documentation, Forms, and References
---
Clinical Modules:
On the third day of supervised clinical training, clinicians gain additional experience in administering ketamine therapy. Suggestions and improvements are made to further your understanding of the unique nature of ketamine therapy. Refinements to the infusion protocol and technique are discussed and demonstrated during this phase.
Module 5C - Second Clinical Session
Supervised Clinical Training
On day three, students continue with supervised clinical training. This additional experience provides more time to build upon the knowledge from the previous days and allows for essential vital concepts to be reinforced.
Pre-procedure Preparation
Preparation of the infusion suite
Setting up your infusion tray
Audio and Visual enhancements
Pre-procedure patient preparation
Determination of adjusted body weight
Patient positioning
Vital signs monitor application and adjustments
Confirmation of pre-treatment vitals
The Ketamine Infusion
IV insertion techniques
Infusion methodologies: Gravity, Drip Assist, Infusion pumps
Determining target ketamine plasma concentrations
Pharmacokinetic modeling during infusion
Using the electronic ketamine infusion record
Assessment of acute psychological and physiological effects during infusions
How to perform infusion rate or concentration adjustments
Preventing infusion occlusions, flow reductions, and disconnects
Tips for guiding patients through the infusion
Avoiding and managing adverse effects
Post Procedure Issues
The immediate recovery period: nausea, fatigue, disequilibrium
Debriefing and integration techniques
Post-infusion recovery monitoring
Patient transportation and discharge
---
Module 6C - Second Experiential Session
The Ketamine "Experience"
In this second section, an opportunity is provided for clinicians who did not have an option on day two to personally experience the non-ordinary states of mind that patients under their care will encounter during an infusion.
Framing the Ketamine Experience
Valuable tips for beginning an infusion session
Understanding Models for the ketamine experience
Visual, Kinesthetic, and Somatic processing
Experiencing dissociation
Time and space expansion
Non-linear thought
The ketamine continuum and depth of immersion
The spacious present
Debriefing and integration techniques
Returning from the experience
Post-infusion Phenomena
Learning from Insights gained to adjust subsequent infusion session
Click here to go to the application page
---
To Learn More About Our Programs - please click the links below:
The "Mini-Fellowship" Intensive Training Program - A Detailed Course Curriculum
Day 1: Ketamine-Based Therapy: The Current State of Ketamine Therapy
Day 2: Ketamine-Based Therapy: Efficacy versus Effectiveness
Day 3: Ketamine-Based Therapy: The Precision Medicine Approach
Our 2023 Course Schedule and How To Apply For Training
New Courses Beginning in 2023
Ketamine Training for Experienced Providers and Anesthesiologists
and Target-Controlled Administration Techniques
The Origin of Our Ketamine Training Program
What Our Graduates Say About The Course
---
"Mini-Fellowship" Intensive Ketamine Infusion Training for Clinicians
3-Day Intensive Course
Our course not only covers all of the practical aspects of ketamine therapy but expands into scientific principles allowing optimization of the basic protocol.  All course training is conducted "on-site" in an actual infusion center so that you will have an opportunity to become familiar with the environment in which infusions are performed and obtain valuable clinical experience administering ketamine infusions under expert supervision. This includes utilizing all of the necessary monitoring equipment, intravenous delivery systems, and supplies necessary for the safe administration, storage, and handling of ketamine. 
How to effectively integrate ketamine therapy into your current practice
_________________
---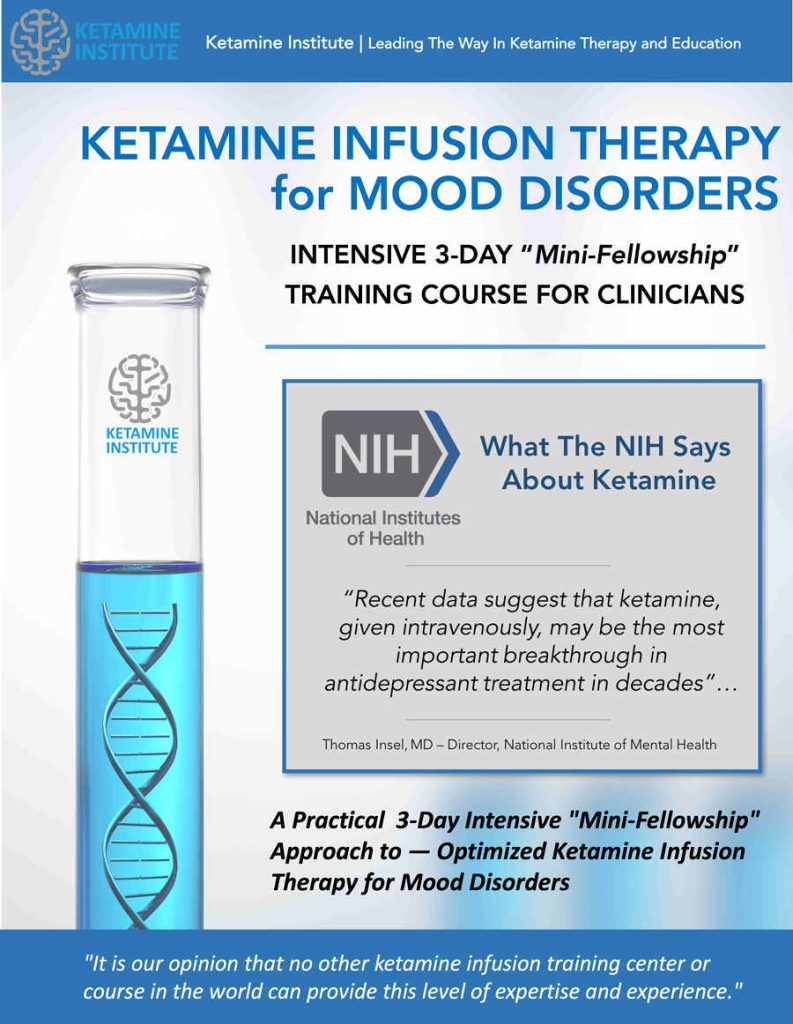 ---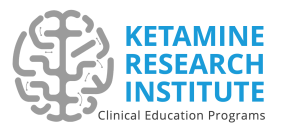 The Ketamine Institute is leading the way in the field of ketamine infusion therapy and physician education with our new ketamine infusion training program. We're on a mission to accelerate the health care revolution. We have pioneered ketamine infusion therapy to bring the latest breakthrough discoveries about ketamine out of the research lab and into our infusion centers.

A New Therapeutic Option for Depression and Pain

The Restore Ketamine Inusion