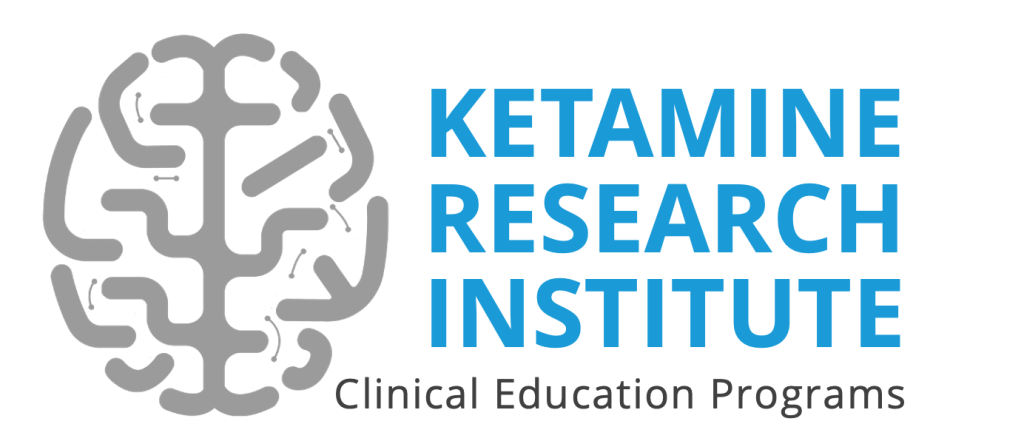 Ketamine Research Institute Training Program
2023 "Mini-Fellowship" Intensive Ketamine Infusion Training for Clinicians — Course Schedule, Fees, and How To Apply for Training
2023 "Mini-Fellowship" Course Schedule
2023 Schedule for the "Mini-Fellowship" Training Program
January 19th through the 21st - Registration Closed
April 20th through the 22nd - Class Currently Full, Alternative list available
May 18th through 20th - Three available openings
July 20th through the 22nd - Five available openings
August 17th through 19th - Six available openings
October 19th through the 21st - Six available openings
*The demand for training in ketamine infusion therapy among clinicians has been overwhelming in the last year. This is due to the rapidly growing recognition of ketamine as a safe and effective treatment option for a variety of mental health conditions, including depression, anxiety, and PTSD. Clinicians are eager to learn how to administer this innovative and effective treatment to their patients, and as a result, we have seen a significant increase in the number of requests for training.
In response to this new and increasing demand, we are proud to announce that we will be adding additional training courses to our schedule to meet the needs of clinicians who are looking to expand their knowledge and skills in this area.
---
The "Mini-Fellowship" Program is Specifically Designed for Clinicians (Physicians, Nurse Practitioners, and APRNs) in the Field of:
Psychiatry, Primary Care, Integrative/Functional Medicine ,and Emergency Medicine
All training is conducted in our state of the art infusion center at the Ketamine Research Institute in Sarasota, Fl
Full Course Description
---

Who Should Attend
Our "Mini-Fellowship" Intensive Training Course For Clinicians is particularly well suited for clinicians (MD, DO, NP) in the fields of Psychiatry, Primary Care, Integrative/Functional Medicine, and Emergency Medicine. It was specifically designed for clinicians interested in ketamine therapy who are new to this unique modality and infusion therapy in general.
Course Application and Fees:
How to Apply:
To apply for the course, please contact us by email at training@ketamineinstitute.com, indicating your interest in ketamine-based therapy and how you plan to integrate it into your current practice environment. We will arrange to speak with you about the course and answer your questions.
Alternatively, if you are committed to training with us, feel free to download, complete, and return the Training Brochure/Application and email it back to us. In addition to the application form, please submit copies of your current active medical/professional licensure and a brief but thoughtful explanation of your interest in and planned use of ketamine-based therapy.
You may send the materials to us by email at training@ketamineinstitute.com or by Fax at 850-602-9013.
After You Apply:
Once all the documentation has been received and reviewed, we will arrange a convenient time to discuss your application, answer any preliminary questions you may have, and provide you with additional details about the program.
Application to the course does not guarantee acceptance. All applications for training are reviewed, and the class roster is filled on a rolling basis. Each of the offered training courses typically fills early, and submitting your application as soon as possible is beneficial.
Once Accepted:
Before beginning the course, it is helpful to have as much background in ketamine therapy as possible. Many physicians have a naïve view that a ketamine infusion is a simple procedure that support staff can perform and monitor while the clinician is attending to other concerns. That belief has led to the proliferation of "ketamine clinics" that often provide substandard care and have inconsistent or poor outcomes.
To help, we recommend that clinicians who attend the course complete a required reading list and review reference articles we provide. This material will assist you in gaining essential background knowledge, which will be very helpful to benefit from our didactic and clinical sessions and serve as handy reference material in your future practice.
Course Fees:
The registration fee for the 3-Day "Mini-Fellowship" Intensive Training Course for Clinicians is $8950.00 — You will not be billed until formal acceptance has been granted.
Upon official acceptance, a $2,500.00 deposit will be charged to your credit card to secure your spot in the program. The remaining balance of $6,450.00 will be due in two installments: The first installment of $3,225.00 thirty days before your start date and another installment of $3,225.00 fourteen days ahead of time. Should you need to cancel within 30 days or less of the course start date, you will receive a full refund of any fees paid, less your initial deposit of $2,500.00.
Please Note:
Accommodations are not included; however, a discounted rate is available for our colleagues with several of our partner hotels, including the Hampton Inn, Magnolia Inn, Ritz-Carlton, and Hilton Art of Ovation hotels.
Non-Disclosure Agreement
Please be aware that the course does not focus on the RESTORE infusion process, which is proprietary to the Ketamine Research Institute. However, a great deal of the content of the course centers around the principles and methodologies used to develop RESTORE including the proprietary data, core concepts, methodologies, and studies used to develop RESTORE. Therefore,  it is our policy to ask all attendees to sign non-disclosure agreements that prohibits attendees from copying, sharing, or disclosing this proprietary information to others, thus protecting the intellectual property of the Ketamine Research Institute.
---
Become a Certified and Well Qualified Ketamine Infusion Therapy Clinician.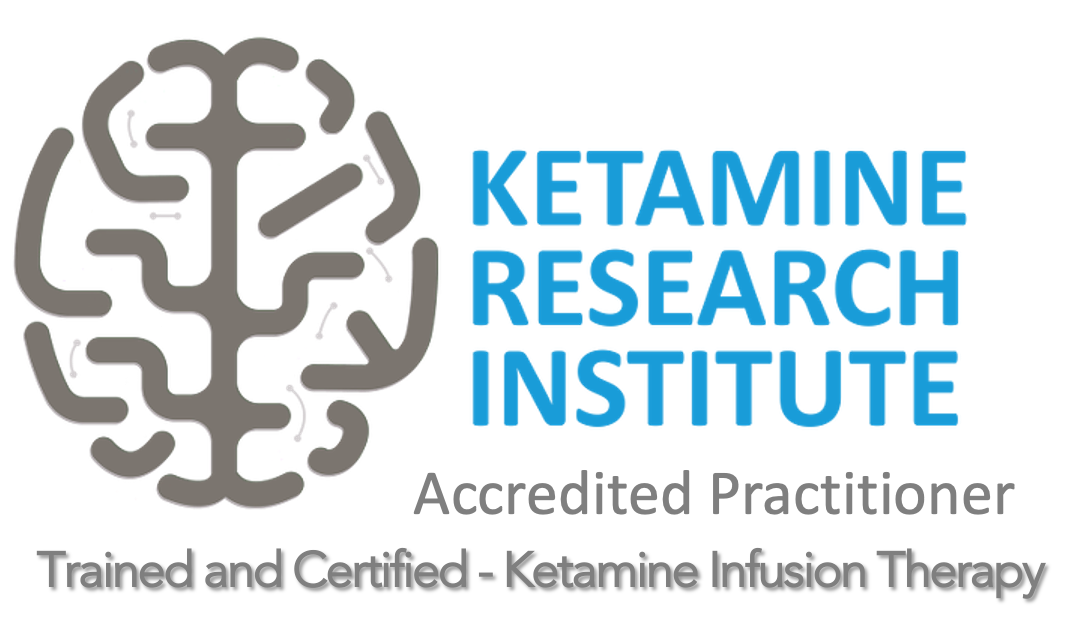 ---
To Learn More About Our Programs - please click the links below:
New Courses Beginning in 2023
Ketamine Training for Experienced Providers and Anesthesiologists
Improving Ketamine-Assisted Psychotherapy with Precision Medicine
and Target-Controlled Administration Techniques
---
"Mini-Fellowship" Intensive Ketamine Infusion Training for Clinicians
3-Day Intensive Course
Our course not only covers all of the practical aspects of ketamine therapy but expands into scientific principles allowing optimization of the basic protocol.  All course training is conducted "on-site" in an actual infusion center so that you will have an opportunity to become familiar with the environment in which infusions are performed and obtain valuable clinical experience administering ketamine infusions under expert supervision. This includes utilizing all of the necessary monitoring equipment, intravenous delivery systems, and supplies necessary for the safe administration, storage, and handling of ketamine. 
How to effectively integrate ketamine therapy into your current practice
_________________
---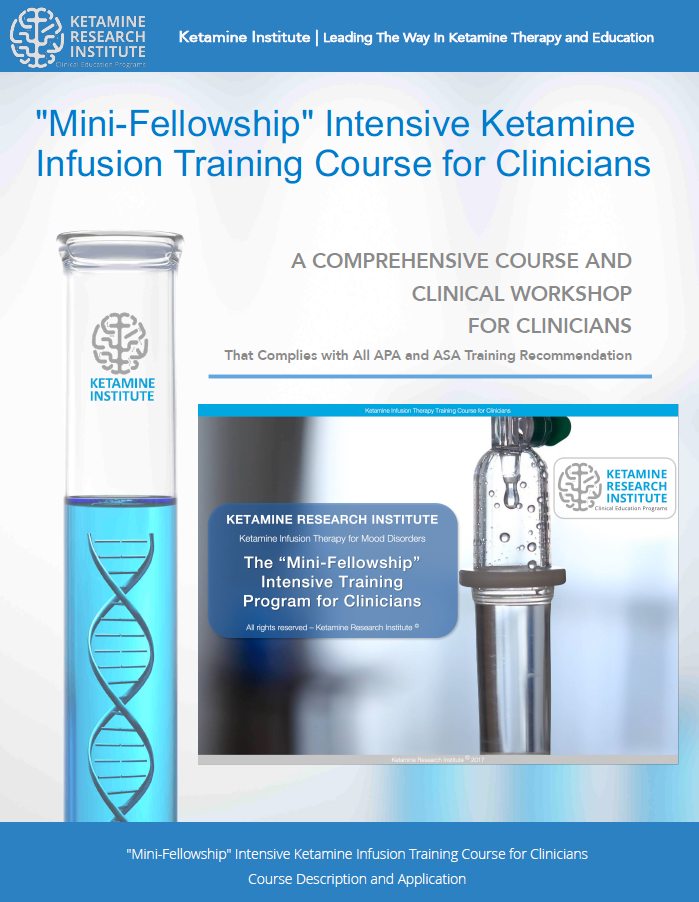 ---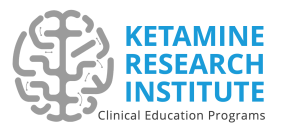 The Ketamine Institute is leading the way in the field of ketamine infusion therapy and physician education with our new ketamine infusion training program. We're on a mission to accelerate the health care revolution. We have pioneered ketamine infusion therapy to bring the latest breakthrough discoveries about ketamine out of the research lab and into our infusion centers.