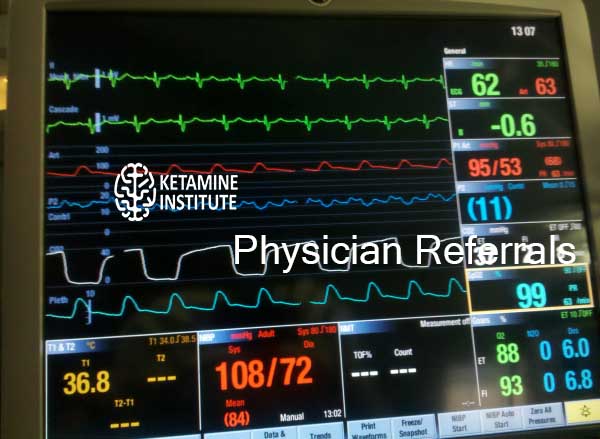 Physician Referrals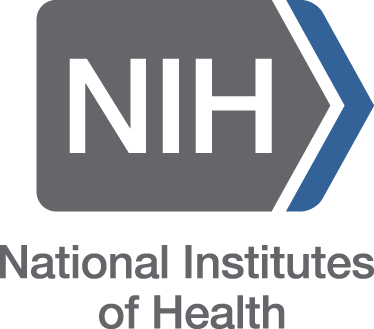 What The NIH Says About Ketamine
"Recent data suggest that ketamine, given intravenously, might be the most important breakthrough in antidepressant treatment in decades"....
Thomas Insel MD, Director, National Institute of Mental Health
The Ketamine Institute is proud to announce -
Ketamine Infusion Therapy
Training Program for Physicians
The program meets or exceeds the American Psychiatric Association consensus recommendation for ketamine therapy and the American Society of Anesthesiology guidelines for monitoring and airway management requirements.
---

---
Restore...A New Therapeutic Option For Depression And Pain
---
The Restore Ketamine Infusion offers the most advanced formulation of ketamine therapy available today. Restore gives physicians and patients with an exciting new therapeutic option for severe depression, chronic pain and post-traumatic stress disorder.
We are happy to work with you in the treatment of any patients who are not responding, as well as hoped, to conventional first and second line agents or therapies.
---
Who is an appropriate patient for Restore?
---
Depression
Appropriate patients with a major depressive disorder without psychotic features would be those who have been treated with at least 2 different types of medication from two different drugs classes and has not obtained any significant benefit from therapy.  In addition, patients who have failed to improve with bilateral ECT and rTMS therapy are also candidates for infusion therapy.
Chronic Pain
Chronic pain patients who may benefit from ketamine therapy include those with neuropathic pain that is not well controlled with injections, nerve blocks, or prescription pain medication. Examples of this kind of pain are trigeminal neuralgia, complex regional pain syndrome (CRPS), or reflex sympathetic dystrophy (RSD), phantom limb pain, post-herpetic neuralgia, and migraine headache. In addition, patients with chronic back and neck pain no longer responsive to any form of treatment or with other debilitating musculoskeletal and joint pain such as Fibromyalgia are candidates for infusion therapy.
Contraindications
Of course, there are some individuals with specific medical conditions who would not be appropriate candidates for this type of therapy and they would include anyone with:
Hypersensitivity (Allergy) to ketamine:
A recent myocardial infarction – less than 6 months ago,
Unstable Angina or Accelerated Hypertension,
Uncompensated congestive heart failure/pulmonary hypertension,
Known or suspected Cerebral Aneurysm or AVM,
A recent hemorrhagic stroke – less than 1 year ago
Several medications are known to compete at the NMDA and/or D2-3 receptor and therefore limited the clinical effectiveness of ketamine, these include:
Risperdal (risperidone),
Zyprexa (olanzapine),
Lamictal (lamotrigine).
Any patient currently on these medications would require a downward titration leading to a temporary discontinuation for approximately 2 weeks before the infusion series and during the course of ketamine therapy. The medication may be resumed following completion of the infusion series if clinically indicated.
Also the use of benzodiazepines (Valium, Xanax, etc.), are "relative contraindications" and may need to be reduced prior to treatment for maximal benefit.
Please feel free to contact us if you have any questions or would like assistance with medication titrations.   
Referral Form

---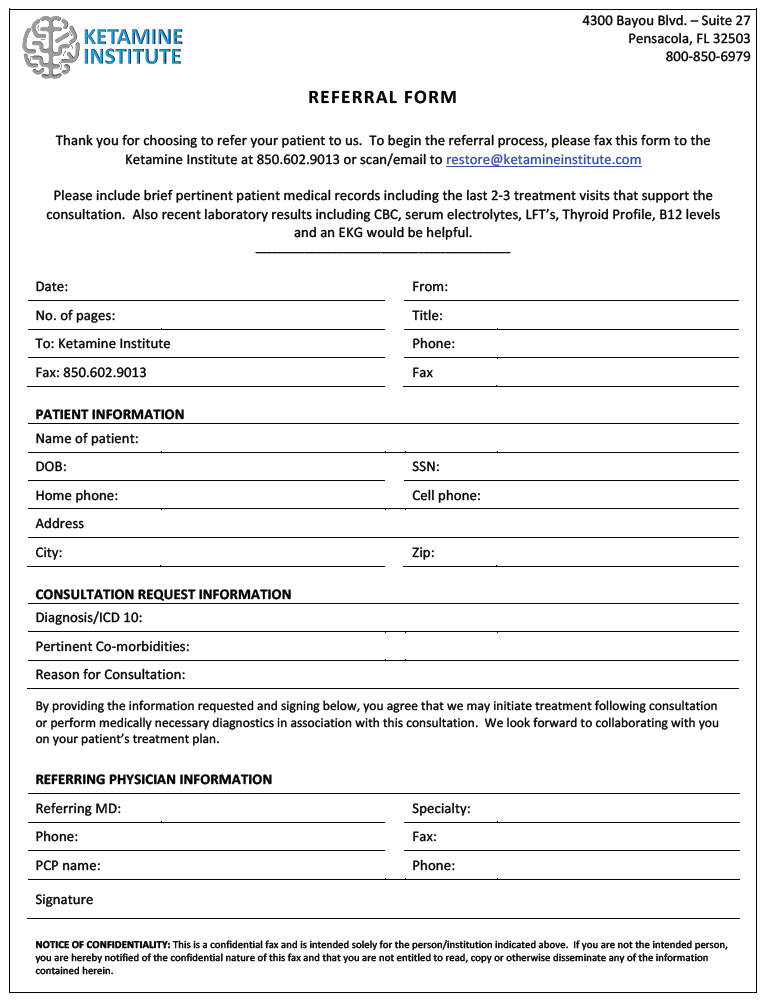 Ketamine Institute Referral Form
---

Relevant Current Research Articles Additional recently published research articles may be found in our RESEARCH section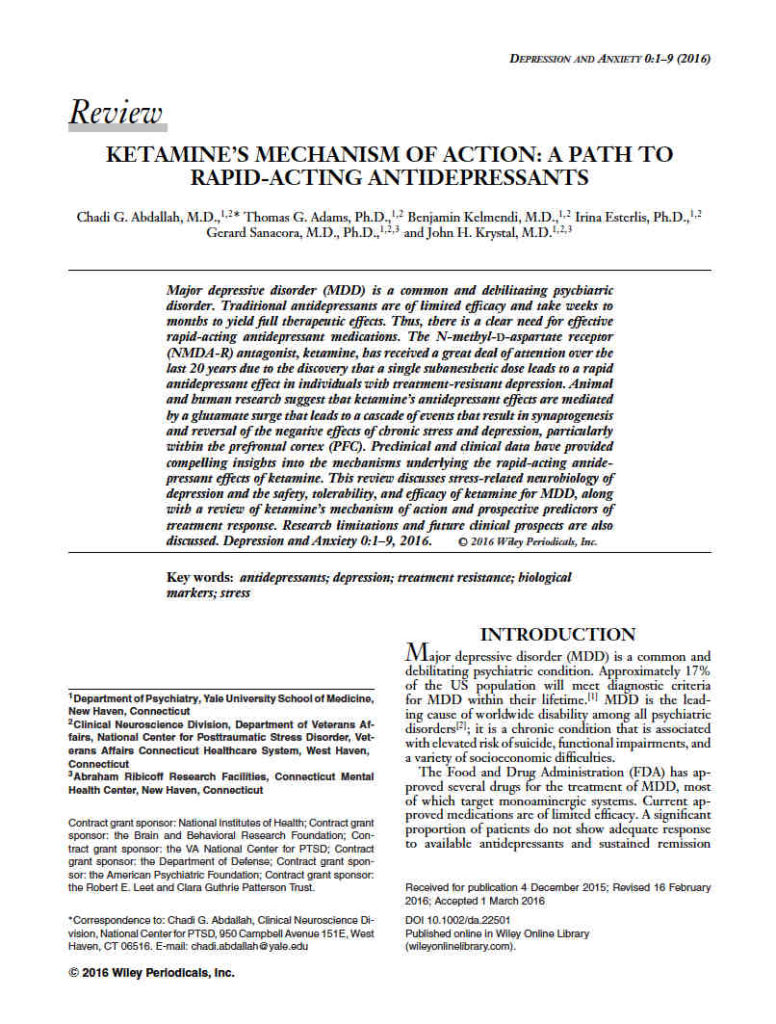 Ketamine's Mechanism of Action: A Path to Rapid Acting Antidepressants
Abdallah CG, Adams TG, Kelmendi B, et al.
Depression and Anxiety. 0:1-9; 2016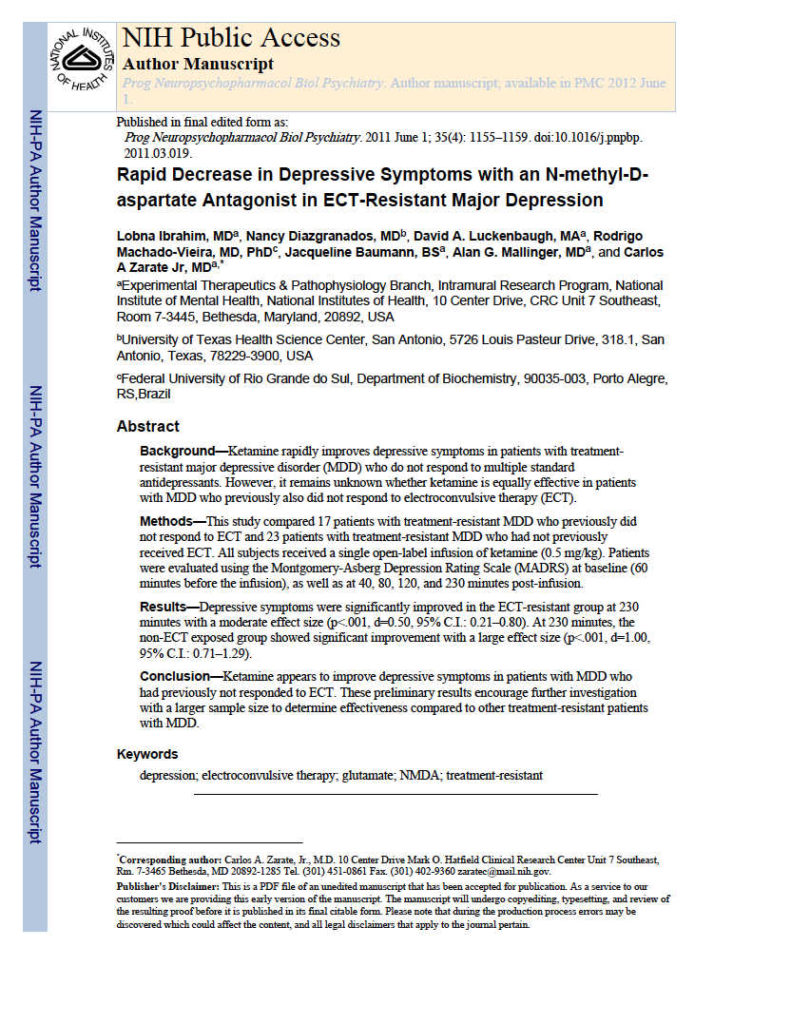 Rapid Decrease in Depressive Symptoms with an
N-methyl-D-aspartate Antagonist in
ECT-Resistant Major Depression
Ibrahim L, Dizgranados N, Luckenbaugh DA, et al.
Prog Neuropsychopharmacolol Biol Psychiatry. June 1, 2011; 35(4):1155-1159.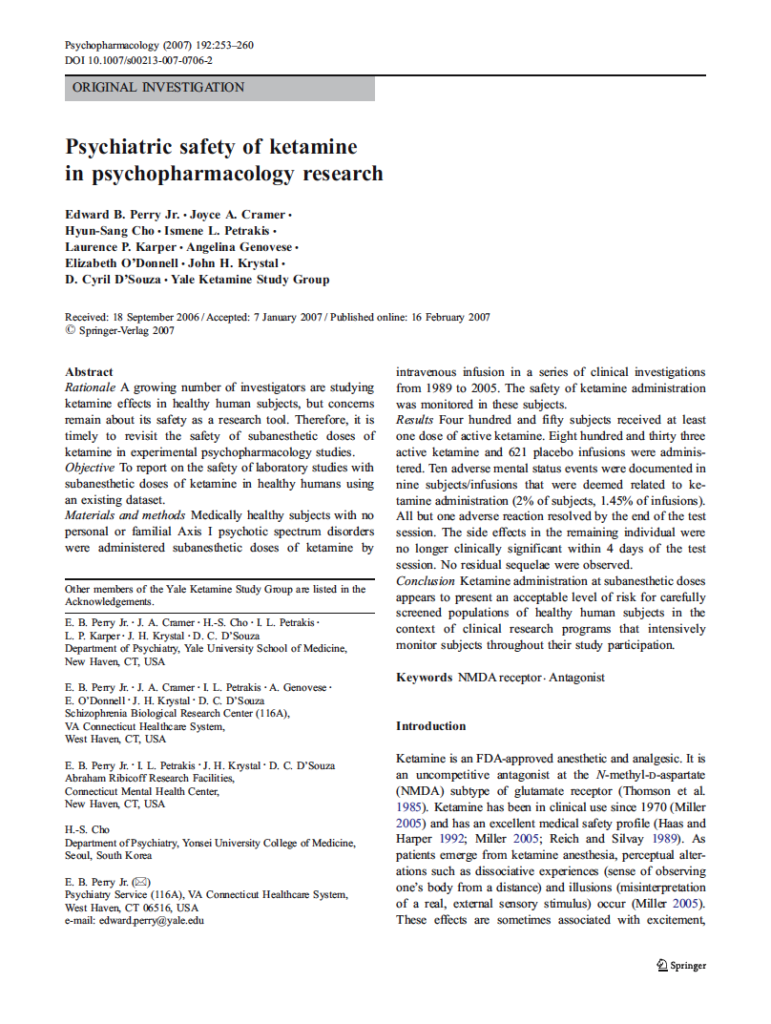 Psychiatric Safety of Ketamine in Psychopharmacology Research
Perry EB, Cho HS, Karper LP, et al.
Psychopharmacology. 192:253-260; 2007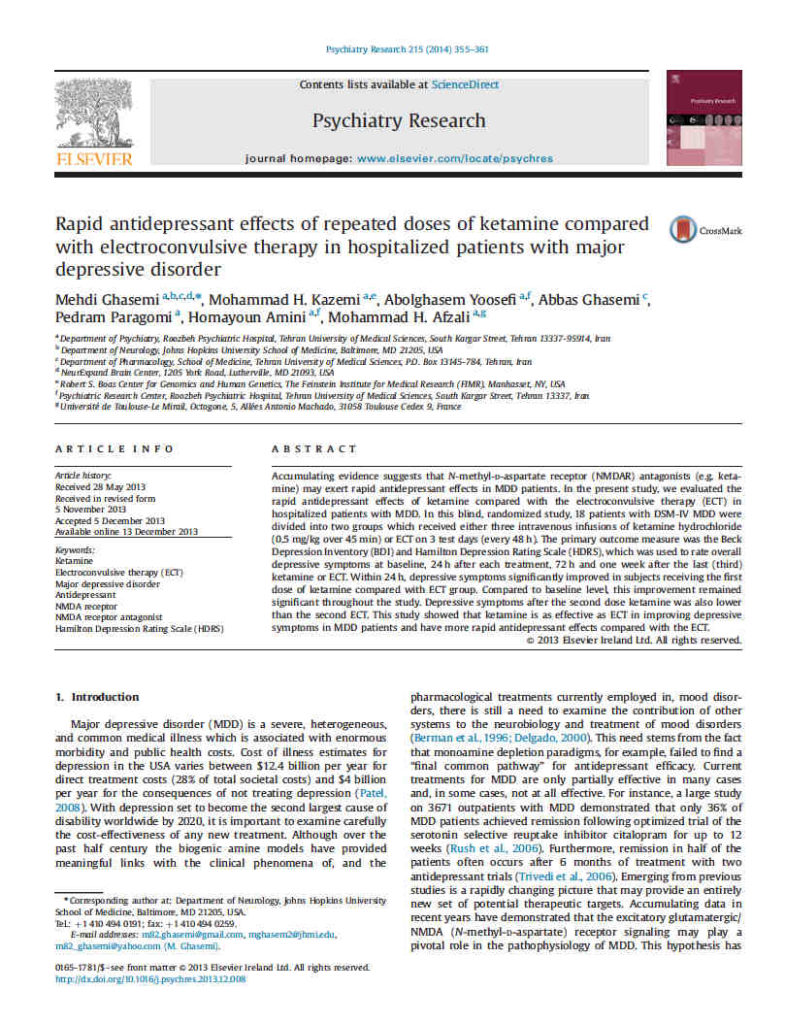 Rapid antidepressant effects of repeated doses  of ketamine
compared with electroconvulsive therapy in
hospitalized patients with major depressive disorder
Ghasemi M, Kazemi MH, Yoosefi A, et al.
Psychiatry Research 2014; 215: 355-361

The Ketamine Institute is leading the way in the field of ketamine infusion therapy with our new Restore Ketamine Infusion. We're on a mission to accelerate the health care revolution. We have pioneered Restore infusion therapy to bring the latest breakthrough discoveries about ketamine out of the research lab and into our infusion centers.

A New Therapeutic Option for Depression and Pain

The RESTORE Ultra-Rapid Infusions