Learn About the

RESTORE

Ketamine

PLUS

Infusion
The more practical, convenient, and affordable alternative to standard ketamine therapy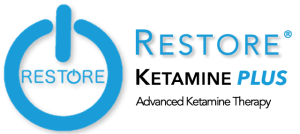 ---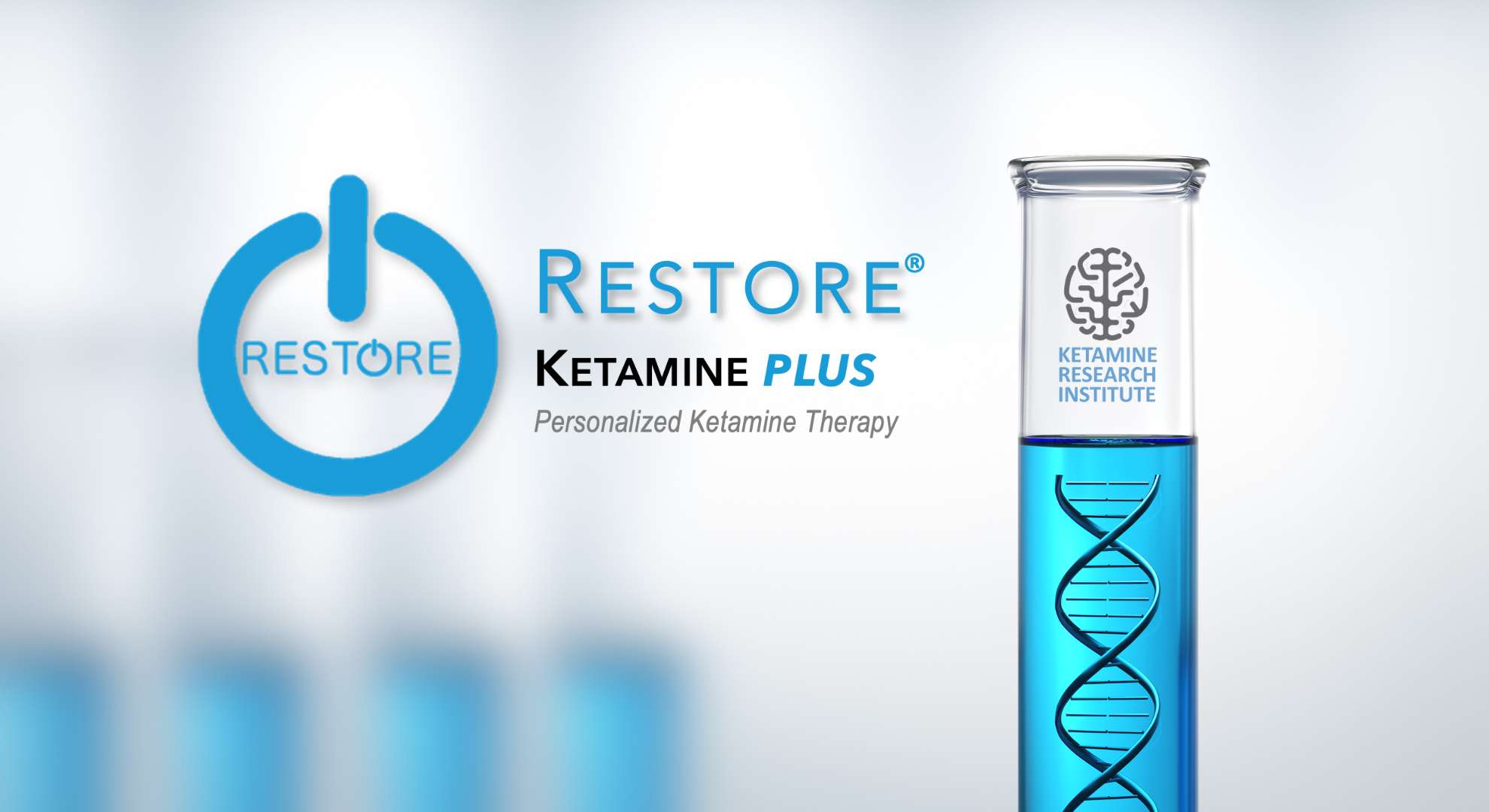 RESTORE

Ketamine
PLUS

Infusion Therapy©: Tailored Treatment for Individual Needs

Ketamine infusion therapy has recently gained popularity as a potentially effective treatment for various conditions such as depression, anxiety, and chronic pain. Our new RESTORE Ketamine PLUS is an advanced and personalized approach that is not the "one-size-fits-all" solution used by most other ketamine centers.

Most providers offer a simple and outdated  "milligram-per-kilogram" formula for ketamine therapy that may not be effective with every individual's unique physiological and genetic makeup. This outdated approach can hinder your response to ketamine or lead to potential side effects. In ketamine infusion therapy, the old paradigm of a universal, "one-size-fits-all" approach doesn't cut it.

We are pioneers of a revolutionary, personalized protocol: RESTORE Ketamine PLUS Infusion Therapy©. Our treatment plans are tailored to an individual's unique genetic, physiological, and medical profiles, ensuring an optimal response to the therapy.
Unleashing the Power of Customization with
RESTORE

Ketamine

PLUS

©

With Ketamine PLUS©, we elevate ketamine therapy to unprecedented levels of effectiveness. This personalized protocol can be more effective than the standardized approaches employed elsewhere. Our experienced professionals are adept at customizing Ketamine PLUS© to meet your unique requirements and treatment objectives.

Our clinicians have the training, expertise, and experience to tailor Ketamine PLUS© to your specific needs and goals. We take the time needed to understand each person's characteristics, medical history, and therapeutic purposes so that our clinicians can design a tailored treatment plan that optimizes your treatment success.

By customizing the treatment plan, we can ensure that each patient receives the most appropriate dosage and duration of ketamine infusion based on their unique needs. Our team of professionals carefully evaluates each patient before beginning treatment to determine their individual needs and develop a personalized treatment plan.

This approach not only improves the effectiveness of the therapy but also minimizes the risk of adverse reactions. Personalization extends beyond dosing adjustments; it considers the patient's safety, comfort, and overall treatment satisfaction.

We understand that each patient seeking ketamine infusion therapy may have a different underlying condition, whether it be depression, anxiety, or PTSD. Therefore, our RESTORE Ketamine PLUS Infusion Therapy© is designed to address these diverse conditions and provide tailored treatment for each patient's needs.
The Advantages of
Ketamine

PLUS

© over standard Ketamine Infusions: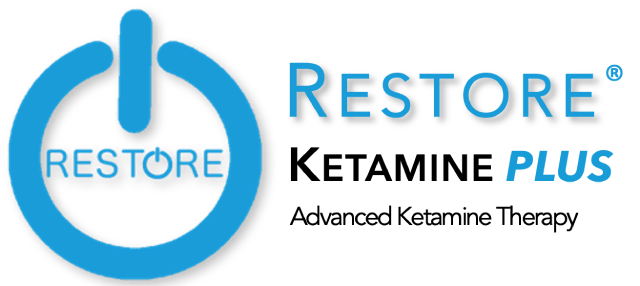 — More Effective - 70-75% improvement versus 50% or less with standard ketamine infusions.
— More Convenient - Initial treatment is only four days, not 14-21 days with ketamine!
— Fewer "Booster" sessions - enjoy long-term relief!
— More Affordable - Only 475.00 per infusion ($1900.00) plus initial consultation fee.
— Personal attention by our experienced, knowledgeable medical staff.
When devising your treatment plan, we consider many factors, including your medications, metabolism, and genetic characteristics. This ensures you receive the precise dosage of ketamine tailored to your condition, making it more effective and eliminating the potential for under or over-dosing, which can lead to reduced efficacy or adverse reactions.
Our team's personal experience with ketamine therapy empowers us with a unique understanding of your journey, allowing us to make the infusion process as comfortable and transformative as possible.
We understand ketamine therapy and have experienced its benefits for ourselves, so we know what you are going through.
Our method enhances the treatment process and experience, making it more comfortable and transformative for our patients, thus improving their adherence to the induction phase. This allows them to embark on their path to recovery more successfully and effectively.
RESTORE  Ketamine PLUS is more advanced and effective than the standard "one-size-fits-all" ketamine infusion. Why have six inconvenient and time-consuming ketamine infusions and wait two weeks for a 40-50% chance of feeling better that may only last for a few weeks when you can RESTORE today?
Embark on the Path to Wellness with

Ketamine

PLUS©
We firmly believe that Ketamine PLUS© offers a superior alternative to the standardized "one-size-fits-all" approach. Our personalized strategy enhances overall treatment efficacy and patient satisfaction, minimizes adverse reactions, and improves treatment compliance, leading to more successful outcomes.
Remember, ketamine infusion therapy is not an isolated treatment but a journey requiring constant monitoring and adjustments. Our personalized approach enables us to monitor your progress closely and make necessary tweaks to your treatment plan, ensuring the best possible care at every step.
So, if you're contemplating ketamine infusion therapy, don't settle for the conventional. Choose the proven, personalized pathway offered by Ketamine PLUS Infusion Therapy©.
It's time to take that crucial first step towards a brighter, healthier future with
Ketamine

PLUS

!

Unlike the commonplace "one-size-fits-all" protocol offered by many ketamine centers, our Ketamine PLUS© approach acknowledges that each person's unique physiological and genetic characteristics require an individualized treatment plan. This commitment to personalization significantly improves treatment effectiveness and minimizes potential side effects.

So, if you are considering ketamine infusion therapy, choose the personalized and proven approach of Ketamine PLUS Infusion Therapy©. So, don't wait any longer – take the first step towards a brighter future with Ketamine PLUS!
For more information about
Ketamine

PLUS,

call us at:
800-850-6979
---

Currently Used To Treat:
Mood Disorders:                                           
Ketamine

PLUS Infusion Series Includes -

Initial Evaluation:
Detailed Initial screening and assessment:
Review of medical records, depression, anxiety, and PTSD metrics.
Review of prior laboratory tests and evaluations.

Infusion Series:
Ketamine PLUS sequential enhanced infusion

Each infusion is enhanced to each patient's individual physiological and psychological response based upon pharmacokinetic parameters.

Monitoring:
An experienced and knowledgeable member of our medical staff is always present with each patient:
Continual real-time monitoring, including
Heart rate and heart rate variability
EKG
Blood pressure
Pulse Oximetry

Also includes -
Autonomic nervous system monitoring and assessment
Pharmacokinetic monitoring
Acoustic and visual modification and entrainment.

Meets and exceeds recommendations:
American Psychiatric Association-
A Consensus Statement on the use of Ketamine in the Treatment of Mood Disorders
American Society of Anesthesiologists-
Practice Guidelines for Sedation and Analgesia by Non-Anesthesiologists

Re-assessments:
Post-infusion assessment by attending physician

Also includes - 
Review of physiological and psychological response
Review of pharmacokinetic and Pharmacodynamic response
Inter-Infusion re-evaluations and reassessments by physician.
Maintenance Therapy:
Fewer maintenance infusions are needed –
After the first 4 infusions, our patients generally only require a brief 3-6 month monthly maintenance period. After that, the beneficial changes become even longer lasting, and fewer infusions are needed. Of course, if something happens, such as a very stressful life circumstance or traumatic event, subsequent infusion may be needed for a short time.
Advantages:
Significantly Effective – 70-75% of patients experience symptom improvement.
Very Rapid and Efficient – Only requires 4 infusions, given over 4 days to complete, not the 6 infusions and 14-21 days to complete like other ketamine infusions.
Longer Lasting – Improvements can last longer than standard ketamine infusions, so, less need for maintenance infusions. Most patients do well with only quarterly maintenance therapy after completion of the induction and 3-6 month reinforcement phase.
Cost Effective – Only $475.00 per infusion.
Time Effective –Less time away from home and work
Reduced Medication – Most patients find they can reduce or discontinue prior medications that were not helpful.
Disadvantages:
At the present time, it is only available at the Ketamine Institute in Sarasota, FL, but we do plan to make it available at multiple locations in the future through our Ketamine Research Institute trained and certified Ketamine Practitioners.
Cost:
The cost of the Ketamine PLUS Infusion for mood disorders is $475.00 USD per infusion.  The total for the initial consultation and four sessions to complete the induction phase is $2150.00
---
Now that you know a little more about the
RESTORE

Ketamine PLUS

Infusion

, explore our other options
That is the RESTORE

Ketamine PLUS

 

Infusion

 difference.

      Call Us Today at 800-850-6979